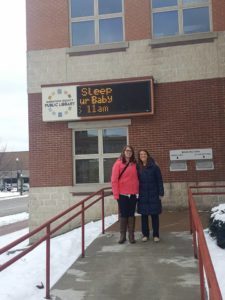 One of our many responsibilities as libraries and librarians–and I would assert one of the most important– is to include culturally accurate, relevant, and current information and materials on communities of color and tribal nations in our collections. With the current state of our country, it's imperative that libraries make this a priority now, if they haven't already.
How can we make ensure that each library book a child, teen, or adult picks up has accurate information? One that can be used to create and deepen understanding, build community, and inspire respect? How do we make this a reality?
One way is to give librarians lists of vetted books by Native scholars and authors, and give librarians collection development tools to evaluate books to purchase for or to weed out of their collection. And a TLAM alum (me, Robin Amado) and a Wisconsin tribal librarian/archivist (Samantha Smith) provided this professional development a month ago!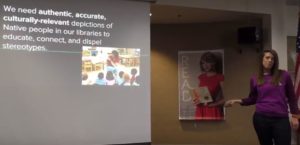 On December 8, Sam and I presented at the Wisconsin Valley Library Service at the Marathon County Library in Wausau, Wisconsin. We facilitated a two-and-a-half hour workshop called "American Indian Collection Development for Children and Young Adults". We are happy to report that four Wisconsin Library systems were represented in attendance!
Here's what we talked about:
A brief introduction to Native Nations in the U.S. and in Wisconsin

A viewing of the "

Living Language

" video from The Ways

Information about Forest County Potawatomi and the Library

Collection development tools (there are so many awesome ones!)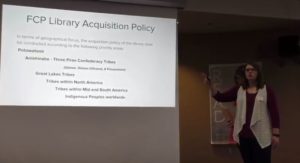 And then, attendees had hands-on work time to use the tools to evaluate their own collections, books we brought along, and choose books to recommend to add to their collections.
I've known Sam since 2012 — we met at the first Convening Culture Keepers gathering I attended at the Forest County Potawatomi Cultural Center, Library and Museum. We've seen each other at ATALM conferences across the country (doesn't hot weather in New Mexico sound really good right now?) and have sat in sessions together.
It was really, really awesome to co-present with Sam and learn more about the Forest County Potawatomi Library, what the collection is like, and the criteria she uses to collect materials.
If you're in an area with a Library System that is looking for professional development for staff, consider having us facilitate this workshop, or one like it, for a few hours! You can reach Robin at robinamado@gmail.com and Sam at Samantha.Smith@fcpotawatomi-nsn.gov
Robin
Collection Development Workshops for Wisconsin Library Systems