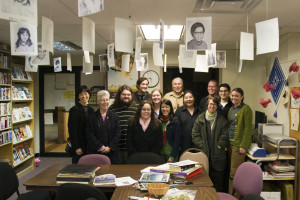 The TLAM Project is an effort at SLIS, the iSchool at UW-Madison, to bring indigenous information to LIS education through integrated coursework, service-learning, continuing education, community-building, networking, resource sharing, and long term partnerships with American Indian cultural institutions.
Emerging out of a student-led service-learning project with the Red Cliff Band of Lake Superior Chippewa in 2008, TLAM has grown to include graduate-level coursework on Indigenous Knowledge, student service-learning partnerships with tribal cultural institutions throughout Wisconsin and Minnesota, the Convening Culture Keepers and Convening Great Lakes Culture Keepers professional development gatherings, the TLAM student group, and a collaborative regional traveling exhibition that tells the story of "We Are Still Here."
If you would like to learn more about TLAM, please explore our website. Or contact us!