Last Saturday, February, 9th, the TLAM Student Group had an informal documentary viewing at Robin's place.  We watched "The Thick Dark Fog" by Randy Vasquez," which focuses on the trauma associated with boarding schools and the road to recovery of Walter Littlemoon, an Oglala Lakota from Pine Ridge, South Dakota.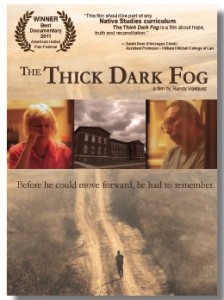 Children Are the Core
I have always thought about children and their importance in society but after watching "The Thick Dark Fog," I became more aware.  According to Lakota society, children are the core. They are the most important and are taken care of very dearly. The implementation of boarding schools weakened the core.
Intergenerational Trauma
Unlike other documentaries on boarding schools, "The Thick Dark Fog," focuses on the healing and recovery of what Walter Littlemoon's doctor calls intergenerational trauma. The children (the core) at boarding schools were subjugated to many traumatic events, which lead them to subjugate their own family.
Brainwashing By Film
For me, a surprising and upsetting part was how schools used old western films in their attempt to brainwash children. In scenes where American Indians were at war with the U.S. cavalry, the children were forced to cheer for the victorious cavalry. The were abused if they cheered for the wrong side.
I recommend it to anyone who wants to learn more about the deeply scarring effects of (and subsequent healing from) boarding schools. If you've watched "The Thick Dark Fog," and want to read more about Walter Littlemoon, I suggest reading his memoir:
Littlemoon, Walter, and Jane Ridgway. They called me uncivilized : the memoir of an everyday Lakota man from Wounded Knee. New York: iUniverse, 2009.
For other documentaries on boarding schools, I suggest these two titles:
Douglas, Ron. Unseen Tears. Documentary, Short, News, 2009.
Richie, Chip, and Dan Agent. Our Spirits Don't Speak English: Indian Boarding School. Documentary, Family, 2008.
- Phillip Yocham