Week 1 – Welcome!
We are kicking off the new semester with the opening class of TLAM.  Seated around the beautiful wood circle table of 4246, ten classmates introduced themselves and the interests they are pursuing while enrolled in SLIS. Travis, Phillip, Rachel, Robin, Dorothy, Dawn, Jeanetta, and Tammy are all eager to begin what is sure to be an exciting, informative and inspirational semester.  Jeanetta will be our intrepid photographer for the semester, coaxing smiles from the unwilling, documenting guest lecturers, and preserving forever the record of our interaction with Wisconsin tribal communities.  Omar gave us an overview of the upcoming semester, the history of TLAM and updated everyone on the project partnerships.
Week 2 – Native Languages and Storytelling
This week TLAM focused on Wisconsin's Native languages and storytelling.  Through an interactive online guide, we learned of the fragile state of Wisconsin's Indigenous  languages.  Menominee elder John Teller has a long tradition of teaching his heritage language to Menominee students and is one of the storytellers participating in the 15th Annual Evening of American Indian Storytelling.  Andrew Thundercloud, a Ho-Chunk elder, is a first-language speaker who develops language curriculum for his tribe.  Lisa LaRonge is a second-language speaker of Ojibwe who started Waadookodaading 'the ones who help each other' or 'they help each other' an Ojibwe immersion charter school located at Hayward, WI.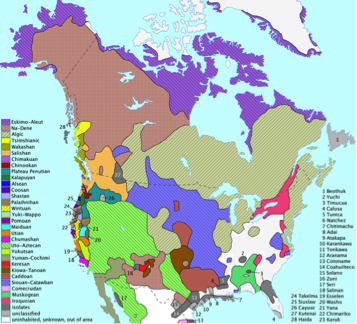 At this time, there are approximately 175-200 indigenous languages in North America, with just a few that have  several thousand speakers; Na-Diné (in brick red), Ojibwe, and Cree (both in clay) .   The rest of the languages are either endangered or will be endangered as the elders who speak the languages pass on.  The map shows the immense linguistic diversity of North American indigenous languages.
Guest Speaker – Rand Valentine
Rand Valentine is the university's resident expert on the Ojibwe and Odawa languages and TLAM was lucky enough to visit our class.  Rand has worked with Algonquian languages for over thirty years in Canada and Wisconsin and is dedicated to promoting and preserving endangered Native languages.  Every year he teaches Ojibwe and Odawa instructors on learning their heritage language and they, in turn, will pass along their knowledge to their students.   Language activists work to revive their heritage languages that boarding schools and assimilation policies have interrupted.  Rand is instrumental in passing along his knowledge not only to future language instructors, but UW students as well.   Additionally, Rand emphasized the importance of libraries and librarians in Native American communities and becoming a hero "…just like Julian…".
Guest Speakers – Baraboo Project
Janice  Rice and Kelly Kraemer visited the class to give us updates on the Ho-Chunk Learning Center project.  Even though the project is in its nascence, there has already been an immense amount of work completed.  There is a large collection of good quality books, most of which have been catalogued by students.   Rather than purchasing a cataloguing package, the Baraboo library group decided to use Library Thing (librarything.com) to organize the center's books.  Not only is this a free and easy way to catalogue books, it is also a creative way for small libraries to check out books to patrons, using the notes feature. When funds are limited, imaginations soar and come up with creative solutions.  More information will be available in the upcoming weeks for students who wish to participate in this project.
For those who are interested in more information on endangered Native American languages, there are the following references:
Texts
Goddard, Ives ed. (2006).  Handbook of North American Indians , vol. 17.  Washington, D.C. Smithsonian Institution Scholarly Press.
Campbell, Lyle (1997). American Indian languages: the historical linguistics of Native America. Oxford: Oxford University Press.
Mithun, Marianne. (1999). The languages of Native North America. Cambridge: Cambridge University Press.
UW Courses
LING371 – Survey of North American Indian Languages – Dr. Monica Macaulay
Various # – Ojibwe I, II, III, IV – Dr. Rand Valentine
Various # – Ho-çak – Henning Garvin
Free online language information
-Tammy Goss