Purpose of Trip:  To transport a book cart for the center, to start labeling the books, and to bring back some of the fiction books for processing.
Date:  March 28th , 2012
TLAM Members:  Irene Hansen, Travis Mueller, Rachael Page, Peter Rudrud, Dorothy Terry, and Phillip Yocham
After hours of discussion, coordination, selecting and ordering, the Baraboo Group reached an important stage in our project with today's visit. The labeling has begun!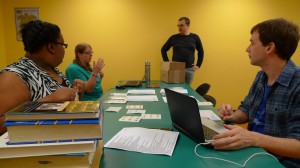 We were able to get started on labeling books in the collection and enjoyed the camaraderie and successful feelings of being underway.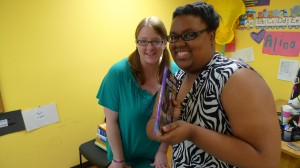 Rachel, Irene and Phillip were also able pick up a donated library cart from DPI and we brought it with us and delivered it to the Learning Center. We brought three boxes of mostly fiction books back with us to Madison and will discuss a time to get together and label those. This may prove to be an opportunity for other TLAM group members to get involved with our project without having to travel to Baraboo.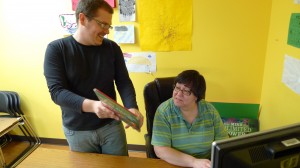 Our next trip to is scheduled for April 13th after Spring Break.
- Peter Rudrud