About the Student Group
Energized by the learning experience of the TLAM class' projects and activities, SLIS students created a new TLAM Student Group in the fall of 2011.
The mission of the TLAM Student Group, outlined in the TLAM Student Group Constitution, is to inform and engage members of the UW-Madison community on the issues and challenges found in tribal libraries, archives, and museums through service-learning. We seek to build and sustain meaningful partnerships with Wisconsin's American Indian communities, sharing our skills, knowledge, and resources to identify and address specific areas of information, literacy, and cultural preservation needs.
The TLAM Student Group also plays a supportive role to the TLAM Class, helping to sustain the different service learning projects year-round by continuing build relationships with our partners and assist in identifying new service opportunities.
Trips and Events
Aside from continuing work on the service-learning projects, the TLAM Student Group has planned social and educational outings to create a stronger sense of community among members.  Here are some event highlights: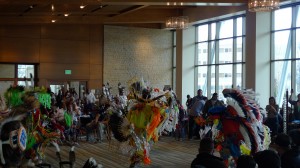 In April 2013, student group members attended the 30th Annual Wunk Sheek Pow Wow at Dejope Residence Hall. For many students  this was their first pow wow experience.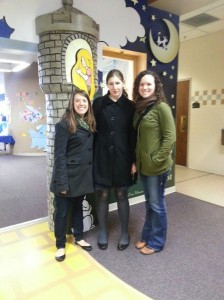 In April 2013, Robin, Mary, and Katelyn attended the Wisconsin Indian Education Association conference in Wausau, Wisconsin. The three sat in on sessions about Act 31, Native education initiatives, and educational material resource-sharing.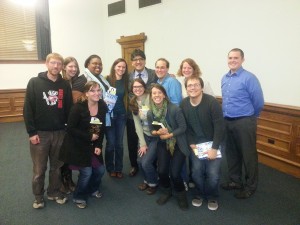 In November 2012, some student group members traveled to the Milwaukee Public Library to see Sherman Alexie speak on his newest collection of stories, Blasphemy.  Students had the opportunity to meet Sherman Alexie following his talk and get a photo with him! You can read Katelyn's blog post on the event here.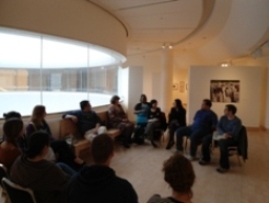 In April 2012, the student group was fortunate enough to meet with Tom Jones at his photography exhibit "Encountering Cultures" at the Overture Center for the Arts in Madison, Wisconsin.  The group received a personal gallery tour and Q&A session!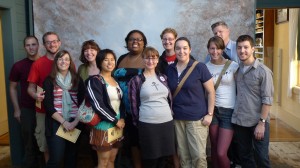 In October 2011, the student group took it's first trip to visit the H. H. Bennett Studio at the Wisconsin Dells in Baraboo, Wisconsin to view his collection of Ho-Chunk photography.
Email Officers with inquiries or comments here.